Decision-making in Export Financing Services by Banks in Hungary
Keywords:
Export financing, Export credits, Decision-making, Hungary
Abstract

The purpose of this paper is to investigate decision-making in export financing services by banks in Hungary. The case studies are of one export credit agency and eight commercial banks. The data was collected through interviews and to interpret the data content analysis with an inductive approach was used. The results show that the decision-making system in export financing services in Hungary tends to be centralized and bureaucratic with a mostly participative leadership style. Effectiveness in the decision-making process is influenced by decision-related factors, human-qualification factors, and organizational contextual factors which can be amplified by certain other factors.


References
AGOR, W. H. (1989). Intuition in organizations: Leading and managing productively. Sage, Newbury Park, CA.
ARGYRIS, C. (2001). Interpersonal barriers to decision making. In Harvard Business Review Press (ed) Harvard Business Review on Decision Making. Boston: Harvard Business School Press, 59-95.
BANAI, A., KIRÁLY, J. AND NAGY, M. (2010). The demise of the halcyon days in Hungary: "foreign" and "local" banks–before and after the crisis. BIS Papers chapters, in: Bank for International Settlements (ed.), The global crisis and financial intermediation in emerging market economies, 54, 195-224.
BARTOL, K., MATTIN D., TEIN, M., & MATTHEWS, G. (1998), Management: a Pacific Rim focus, McGraw-Hill, Sydney.
BROUSSEAU, K. R., DRIVER, M. J., HOURIHAN, G., & LARSSON, R. (2006). The seasoned executive's decision-making style. Harvard Business Review, 84(2), 110.
CSÁKI, C., & GELLÉRI, P. (2005). Conditions and benefits of applying decision technological solutions as a tool to curb corruption within the procurement process: The case of Hungary. Journal of Purchasing and Supply Management, 11(5-6), 252-259.
DAFT, R., & MARCIC, D. (2016). Understanding Management. Tenth edition. Boston: Cengage Learning.
DRUCKER, P. F. (2001). The effective decision. In Harvard Business Review Press (ed) Harvard Business Review on Decision Making. Boston: Harvard Business School Press, 1-19.
Exports of goods and services (% of GDP). World Bank. Retrieved: March 2022 https://databank.worldbank.org
GLOBE project. Retrieved: March 2022: https://globeproject.com/results#list
GODBILLON-CAMUS, B. AND GODLEWSKI, C.J. (2005). Credit risk management in banks: hard information, soft information and manipulation. MPRA Paper 1873, University Library of Munich, Germany. https://doi.org/10.2139/ssrn.882027
LAMBSDORFF, J.G. (2015). Preventing corruption by promoting trust: insights from behavioral science. Working paper. Passauer Diskussionspapiere-Volkswirtschaftliche Reihe, V-69-15
HAMMOND, J.S., KEENEY, R.L. AND RAIFFA, H. (1998). The hidden traps in decision making. Harvard Business Review, 76(5), 47-58.
HASAN, I. AND MARTON, K. (2003). Development and efficiency of the banking sector in a transitional economy: Hungarian experience. Journal of Banking & Finance, 27(12), 2249-2271.
HENSMAN, A. AND SADLER-SMITH, E. (2011). Intuitive decision making in banking and finance. European Management Journal, 29(1), 51-66. https://doi.org/10.1016/j.emj.2010.08.006
HOMOLYA, D. AND BENEDEK, G. (2007). Banki működési kockázat elemzése. (Analysis of operational risk of banks – modelling of catastrophy.) Hitelintézeti Szemle (Review of Credit Institute), 6(4), 358-385.
JÁKLI, G. (2021). Various services provided by EXIM Hungary to help Hungarian export companies enter new markets. Világgazdaság, August 2nd.
KITTISARN, A. (2003). Decision making: being a study to develop a decision-making style to amalgamate best management practice with traditional Thai society and culture. PhD Thesis, Southern Cross University (New South Wales, Australia).
LI, S., BÜHREN, C., FRANK, B. AND QIN, H. (2015). Group Decision Making in a Corruption Experiment: China and Germany Compared. Journal of Economics and Statistics (Jahrbücher für Nationalökonomie und Statistik), 235(2): 207–227.
OECD (n.d.). Export credits work at the OECD. Retrieved: May 2020: https://www.oecd.org/trade/topics/export-credits/
PARIKH, J., NEUBAUER, F. AND LANK, A. G. (1994). Intuition: The new Frontier of management. Blackwell, London.
PINTÉR, É. (2017). Development of Banking Industry in Hungary. International Journal of Economics and Management Systems, 2, 56-65.
RAINEY, H. G. (2003). Understanding and Managing Public Organizations. Third edition. San Francisco: John Wiley & Sons.
REGUERO, B. (2019). Introduction from the Berne Union President. In Berne Union (ed) Berne Union Yearbook 2019. Berne Union Publications, 12-14. Retrieved: May 2020: https://www.berneunion.org/Publications
ROBBINS, S.P., BERGMAN, R., STAGG, I. & COULTER, M. (2000). Management. 2nd edition. Sydney: Prentice Hall.
RONCZ, G. (2011): Provision of export credit: a successful means for realizing export-led growth. Presentation at the conference "Credit provision for supporting growth of export." EXIM, Budapest, July.
SENYUTA, O. (2013). Delegation and performance. Cerge-Ei Working Paper Series 497. The Center for Economic Research and Graduate Education - Economics Institute, Prague. https://doi.org/10.2139/ssrn.2358526
SIMON, H. A. (1948). Administrative Behavior. New York: Free Press.
SWAMI, S. (2013). Executive functions and decision making: A managerial review. IIMB Management Review, 25(4), 203-212. https://doi.org/10.1016/j.iimb.2013.07.005
TÓTH, T. (2021). The Effects of COVID-19 on the Digital Transformation of the Hungarian Banking Sector. In: New Horizons in Business and Management Studies. Conference Proceedings. Corvinus University of Budapest, pp. 56–64. https://doi.org/10.14267/978-963-503-867-1_06
United Nations Development Programme (UNDP). Retrived: December 2021: http://hdr.undp.org/en/composite/trends
U.S. EXIM BANK. (2019). The U.S. Congress on Global Export Credit Competition report 2019. [online]. Retrieved: May 2020: https://www.exim.gov/news/exim-releases-2018-competitiveness-report
VANEK, B. (2009). A gazdasági válság hatása a vállalatokra a kintlévőség-kezelés szemszögéből, avagy a hitelbiztosítás szerepe a válságban és az azt követő fellendülésben. (The influence of economic crisis on enterprises from the point of view of handling receivables, the role of credit insurance during crisis and recovery following it.) May. Website, Bankszövetség (Alliance of Hungarian Insurance Banks).
VÉRTESY, L. (2013). Kockázatkezelés és biztosítás (Risk handling and insurance). Gazdaság és Társadalom (Economy and Society), 5(1).
VROOM, V.H., & YETTON, P.W. (1973). Leadership and Decision-making. Pittsburgh: University of Pittsburgh.
WIEDER, G. (2020). Impacts of COVID-19 on the Hungarian banking sector. Website, KMPG. Retrieved: July 2022. https://home.kpmg/hu/en/home/insights/2020/05/impacts-of-covid-19-on-the-Hungarian-banking-sector.html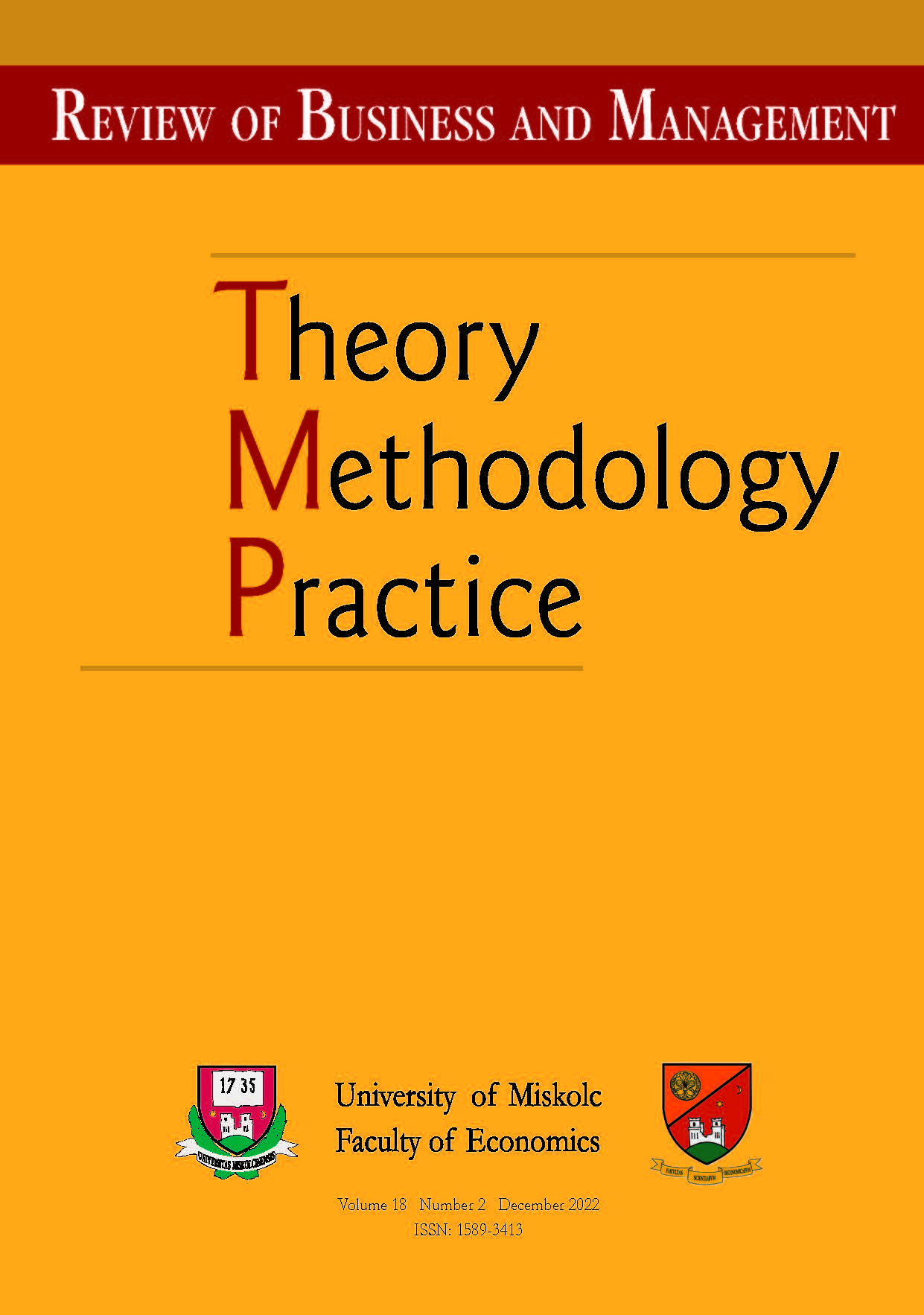 Downloads
How to Cite
Alamian, R., & Balaton, K. (2022). Decision-making in Export Financing Services by Banks in Hungary. Theory, Methodology, Practice - Review of Business and Management, 18(02), 3–22. https://doi.org/10.18096/TMP.2022.02.01
License
Copyright (c) 2022 Rosa Alamian, Károly Balaton
This work is licensed under a Creative Commons Attribution 4.0 International License.